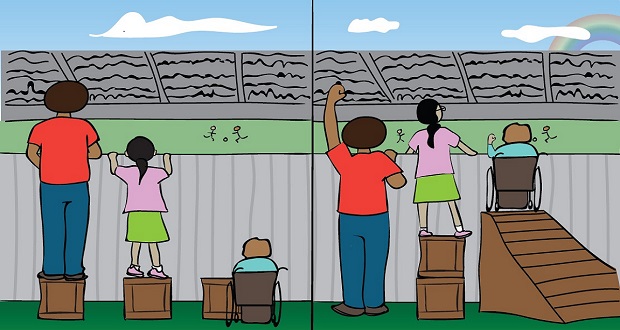 My Thoughts on Equality in The 21st Century: An Illusion
Withholding tears while touching on the subject of injustice against women in Hollywood, American actor, Resse Witherspoon, said to Oprah in an interview, "Silence helps the tormentors, not the tormented and neutrality helps the oppressors, not the oppressed.  There are times when you have to evaluate if silence is your only option and at certain times indeed it was, but now is not that time."
Except for the fact that it should be well over a decade since I started to witness the vast knowledge and prejudice that existed cheek-by-jowl in society, I may have conveniently glossed over her statement, not understanding the depth of what was unsaid.
Discrimination at its core, occurred in the medieval times, when people were mistreated for the most ridiculous reasons, including gender. Centuries ago, in Africa, it was not unusual for the birth of a male to be followed by chants of praise and celebration as though there had been a land conquest. This patriarchal system ensured that the girl child displayed no ambition and owed her lineage the simple duty of fertility. Today, things have changed (or so it seems). Civilization has successfully created for us a clear illusion of gender equality, such that the average mind does not pay meaningful attention to the subtle but prevalent prejudice against women. Despite the provision for equality in constitutions of countries around the world, the expression, "It's a man's world", has found its way to the lips of several women who have suffered injustice, serving as a white flag of sorts and portraying their powerlessness and hope.
A recent publication by TIME'S UP; a Hollywood initiative against sexual harassment, revealed that though about 51% of Americans are women, 81% of board members in Hollywood are men.  Oprah Winfrey's Golden Globe award speech and heartwarming salute to women, like her mother who suffered injustice simply because they had bills to pay and dreams to pursue is a testament to the fact that inequality is not a myth. Last year, I applied to three different companies who refused my applications on the basis that they were accepting male candidates only. Till this moment, I find it completely absurd, except that it happened to me. Women have since proven to be worth their salt, so this incident baffled me for weeks. I knew for sure that too much talk about this would earn me the status of 'feminist' which in many conversations can be lazily substituted with non-conformist, emotionless or angry. However, I decided to take Reese's advice and keep talking because "now is not that time (to be silent)".
There is no doubt that women are a tremendous contribution to society, and though we have made immense progress since the medieval times, there is yet a long road to be walked towards the achievement of equality. Hence, the realization that our present experience is a mere reflection of what ought to be is the first step to liberation.